Hi,
We would like to create a nuget package for our code (.net core 3.1). However it appears that the alternet ui controls are added to the vs toolbox. How do I prevent the alternet controls from showing up?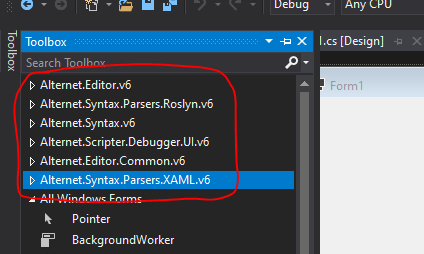 To be clear
OurPackage depends on Alternet.Studio.Scripter.Debugger.UI.WindowsForms and Alternet.Studio.Editor.Roslyn.
When consuming "OurPackage" in a new solution, the alternet ui controls are visible in the VS ToolBox.
I have tried the following without luck.

compile


compile

Repo steps,
Create new project e.g. OurPackage in vs2019
Add nuget packages Alternet.Studio.Scripter.Debugger.UI.WindowsForms and Alternet.Studio.Editor.Roslyn
Right-click "Pack" OurPackage
Consume that pack in a new solution
Thanks,
Rob